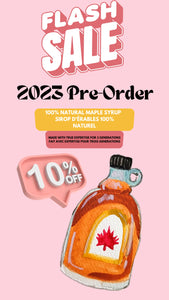 This item is a pre-order of 2 x 200ML of 100% pure & natural unaltered maple syrup made with a wood still using no anti foam or any funny business. The producer is our friend & neighbor at our farm that is a third generation maple farmer with the utmost knowledge & expertise the best tasting quality maple syrup Quebec has to offer. 


***THIS ITEM WILL BE SHIPPED INDIVIDUALLY PLEASE DO NOT ADD OTHER ITEMS BUT SYRUP TO THIS ORDER - LOCAL FREE PICKUP IS AVAILABLE AT CHECKOUT***
Cet article est une pré-commande de 200ML de sirop d'érable 100% pur et naturel fabriqué avec un bois n'utilisant toujours pas d'anti-mousse ou de toute entreprise amusante. Le producteur est notre ami et voisin à notre ferme qui est un acériculteur de troisième génération avec la plus grande connaissance et expertise du meilleur sirop d'érable de qualité que le Québec a à offrir.